Perth's Commercial Roofing Specialists
A roof is one of the most important aspects of any building. This can be particularly true when it comes to commercial buildings as they often cover a large area and protect valuable assets underneath them. Consequently, it is, therefore, crucial to ensure that a commercial roof is strong, sturdy and durable to Perth's sometimes unpredictable weather.
Dealing with Commercial Roofing Maintenance and Repair
Commercial roofing maintenance is something that all owners should be aware of. If a roof fails, particularly on a commercial building rather than residential, it could mean severe ongoing problems for that business or occupiers of that building, if not rectified promptly. Having a regularly scheduled inspection (ideally once a year) and coincided with required roof maintenance, is an excellent way of ensuring that commercial roofing issues are rectified before they escalate to extensive damage.
Choosing the right Commercial Roofing
The type of building requiring commercial roofing will greatly influence the type of roof that should be installed. The most common material used for commercial roofs is Colorbond metal. This is due to the durability and reliability of being a premium roofing choice.
BUSS Roof Plumbers can assist with all roofing materials, including Colorbond, and can assist with various commercial properties, including:
Schools
Schools often prefer Colorbond roofs, not just for the overall aesthetics but for the durability factor.
Factories
It is rare to find a tiled factory roof as Colorbond offers durability and standards required for factory structures.
Warehouses
Like with factories, the level of durability and standards that Colorbond offers.
Shopping Centres
Shopping centres are often Colorbond roofs due to the amount of coverage that they offer as opposed to individual tiled roofs.
Units and Apartments
It is not uncommon for buildings like this to be tiled, especially if they are older buildings.
Offices and Corporate Buildings
Depending on the type of building, offices and other corporate structures could be either tiled or Colorbond roofing.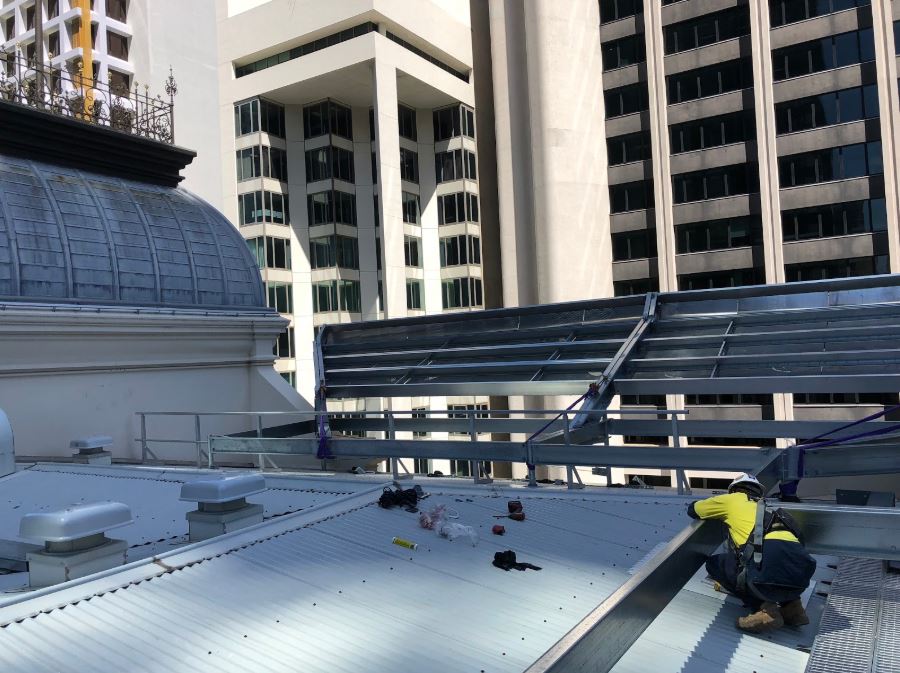 HOW BUSS CAN HELP WITH YOUR COMMERCIAL ROOFING NEEDS
BUSS Roof Plumbing has roof specialists with over 10 years' experience in the commercial roof plumbing and repairs industry. With hands-on experience and expertise for both tiled and metal sheet roofing, BUSS Roof Plumbing services can assist with any ongoing roofing problems you are experiencing. BUSS Roof Plumber's pride themselves on offering cost-effective solutions, a strong eye for detail, minimum disturbances during repairs and permanent roofing solutions. For more information about our commercial roofing services in Perth, call (08) 6460 7904.
Do you need our services? Fill out this form to get in touch.