ROOF PLUMBER SWANBOURNE
Swanbourne Residential & Commerical Roof Repairs.
The BUSS Roof Plumbing team offer emergency roofing repairs to the residents of Swanbourne and their neighbouring suburbs. Being more of a coastal suburb, Swanbourne can be subject to harsher weather conditions than other areas of Perth. Therefore, ensuring that you have a reliable and experienced roof plumber readily available to your home is crucial.
When you are experiencing an emergency roof repair, we understand that it can be a rather overwhelming and stressful time. To help ease the stress that emergency leaks and repairs can cause, our team will do their utmost ensure that there is a secure temporary solution in place for your peace of mind, whilst then sourcing the necessary materials to repair the roof leak or any other damages incurred.
Our team always recommends having your roof maintenance done yearly. Additionally, if your roof is exposed to a high tree dense area, every six months is more beneficial due to the potential build-up of natural debris. However, without proper maintenance, if you do experience significant roof damage, it can become more financially beneficial to invest in a new roof installation rather than repairs. This decision comes down to the level of damage incurred.
In some circumstances, repairs may only last a few years, but a new roof installation can offer you a significantly longer lifespan. There is an initial larger outlay cost, however, it will be less than ongoing repair costs due to ongoing damage. Our roof plumbing team will be able to discuss various options with you whilst assessing your Swanbourne home.
GET A QUOTE TODAY
Servicing Swanbourne & surrounding suburbs
NEED A ROOF PLUMBER SWANBOURNE?
Our roof plumbing team offer a 24/7 service to all Swanbourne residents. We have a variety of services that can assist with any roofing queries. From leak repair to a new roof installation – BUSS Roof Plumbers can assist to ensure your roof has optimal roof health.
General Roof Repairs and Maintenance in Swanbourne and surrounding suburbs
General roof repairs – such as a broken roof tile or damaged gutter etcetera are all things that our team can assist with. Our team are experienced in repairing both tiled and tinned (Colorbond) roofs, so whatever the problem, BUSS Roof Plumbers are able to identify and resolve the issues at hand.
Swanbourne residents and surrounds deserve the highest quality roofs. Whilst tiled roofs are still ever-present and do require maintenance, there has been a noticeable increase in residents switching to Colorbond Roofing. Colorbond offers durability and reliability that tiled roofs often can lack.
In addition to the importance of a quality roof, gutters and downpipes also need to be regularly inspected. Gutters and downpipes help protect your Swanbourne home from excessive water damage and natural debris build-up. However, if gutters and downpipes after a long period of time or excessive use from harsh weather, they can become subject to wear and tear. Therefore, they can require either repair or replacement.
Furthermore, by their very nature, gutters and downpipes are there to ensure that water flows away and does not pool causing damage to your Swanbourne home. However, when you fail to have your gutters and downpipes cleaned, pooling will happen and the cost for repairs can be higher the longer they are left unmaintained.
Natural debris build-up is not the only thing to be concerned about when it comes to your Swanbourne home.  Evaporative coolers/air conditions are known for leaking onto roof sheets and then into the gutters. The water that is released from these units is highly corrosive due to its salt content within the expelled water. This corrosive water will cause the gutters and downpipes to rust at a faster rate.
Coastal Areas
Swanbourne is a coastal suburb of Perth and therefore is frequently exposed to the sea breeze. This means that the corrosive salty sea spray of the coastline can impact Swanbourne roofs. These strong winds can easily carry this salt spray that has the potential to directly affect warranties on roofing materials, such as Colorbond. Therefore, the BUSS Roof Plumbing team recommend that coastal suburbs like Swanbourne, ensure that they get their roofs regularly inspected to avoid potential long-term damage.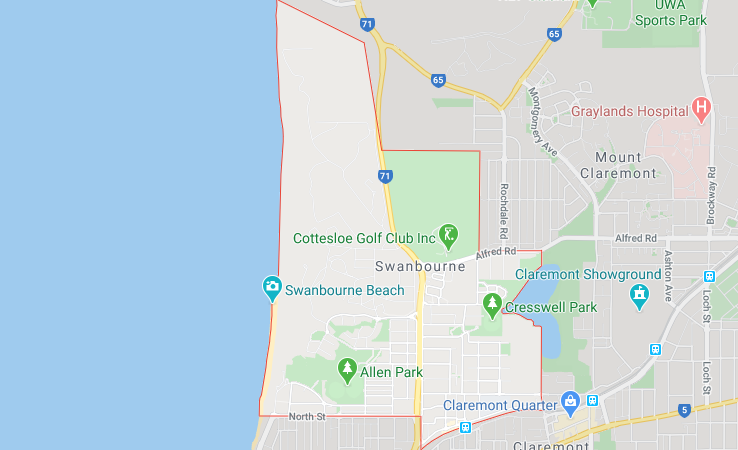 CHOOSE US FOR YOUR ROOF PLUMBING NEEDS SWANBOURNE
The BUSS roof plumbing team are roofing specialists with over 10 years' experience in the residential roof plumbing and repairs industry. Swanbourne, along with the many other locations around Perth, are able to access our services. With our hands-on experience and expertise for tiled and metal sheet roofing, our services can assist with any ongoing or immediate roofing problems. We pride ourselves on always offering cost-effective solutions to your home and offer a strong eye for detail. For more information about our roofing services in Swanbourne, call us on (08) 6460 7904.
Upfront Pricing Guaranteed