ROOF PLUMBER OSBORNE PARK
Osborne Park Residential & Commerical Roof Repairs.
The weather in central Perth, Osborne Park, and its surrounding suburbs can be difficult irrespective of the time of year. A sudden storm is not unheard of during the summer months. These storms can cause more wear and tear damage to roofs than expected. Therefore, ensuring that you have a roof plumber readily accessible at your Osborne Park home, means that when you require roof repairs or maintenance, our Roof Plumbing team can be there to assist you.
When it comes to emergency roof leaks in Osborne Park, our BUSS Roof Plumbing team understands the worry that often comes from the damage that can develop to your roof. Sometimes an emergency roof leak can require more work than can be initially repaired on the first visit. When this is the case, our Roof Plumber's do their utmost to ensure that there is a secure temporary solution in place for your peace of mind, whilst then sourcing the necessary materials to repair the roof leak.
When a roof has incurred damage, sometimes it is more financially feasible to invest in a new roof installation rather than just repairs. This is because repairs may only last a few years, however a new roof installation can offer you a significantly longer lifespan. Even though the initial outlay cost will be larger, ultimately it will cost less going forward. Our roof plumbing team will be able to discuss your options with you upon assessing your Osborne Park home.
Our BUSS Roof Plumbing team can offer options to repair leaks, provide ongoing roof maintenance services, and any general repairs that may be required to maintain your roof health.
GET A QUOTE TODAY
Servicing Perth & surrounding suburbs
NEED A ROOF PLUMBER OSBORNE PARK?
A roof repair can range from standard roofing maintenance services and roof leak repair to something more comprehensive like a completely new roof installation. With experience in repairing both tiled and tinned (Colorbond) roofs, the BUSS Roof Plumbing team can identify and resolve any issues at hand.
Maintainance and Roof Repairs to your Osborne Park home and surrounding suburbs
Homes in Osborne Park should have quality roofs. Whether it be a tiled or Colorbond roof, our roof plumbing team will be able to assist you with your repairs. Tiled roofs are still often more prevalent with residential properties, there has been an evident shift more towards newer homes selecting to have a Colorbond roof. This is due to the product's durability that a tiled roof often lacks.
The importance of gutters and downpipes being maintained for a home is often overlooked. Gutters and downpipes assist in protecting your Osborne Park home from extensive water damage and a build-up of natural debris.
Therefore, after heavy storms and ongoing temperamental weather conditions, your gutters and downpipes will become subject to wear and tear -resulting in either repairs or often replacement, depending on the level of damage. Our team aim to always offer as many cost-effective solutions and try to have little impact or disturbance to your home.
Unfortunately, it is not only natural debris build-up that could damage your Osborne Park home.  Often evaporative coolers/air conditions are known for leaking onto roof sheets and then into the gutters. The water that is released from these units is usually extremely corrosive. The corrosiveness comes from the high salt content level that is expelled from this water. Consequently, this will cause the gutters and downpipes to rust at a faster rate.
Coastal Areas
Osborne Park is not considered a coastal suburb of Perth but doesn't mean that your roof is susceptible to have damaged caused from corrosive salty sea spray. As Perth is considered to be a rather flat terrain with heavy winds – it is very easy for this corrosive spray to travel and damage inland Perth properties. The damage will predominately affect warranties on materials like Colorbond.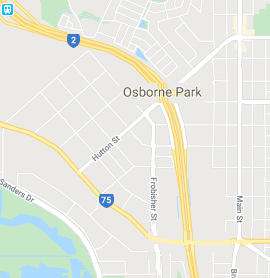 CHOOSE US FOR YOUR ROOF PLUMBING NEEDS OSBORNE PARK
With over 10 years' experience in the roof plumbing repairs industry, the BUSS Roof Plumbing team can assist with any repairs you need. Osborne Park is only one of the many locations that the BUSS Roof Plumbing team service around the Perth metropolitan area. Our team pride ourselves on offering our clients cost-effective solutions and having a strong eye for detail. For more information about our services available, please call us on (08) 6460 7904.
Upfront Pricing Guaranteed